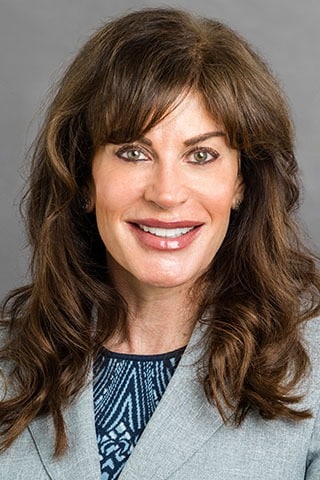 Rebecca Filiatraut
Attorney
Rebecca Filiatraut graduated in 1991 from Oakland University with a Bachelor of Arts in English Literature. In 1994 she received her Juris Doctor from the Detroit College of Law. While attending law school she worked at the Public Defenders Office, representing individuals charged with misdemeanors at the 36th District Court in Detroit.
After her graduation, she spent several years working for a large and nationally recognized personal injury law firm. It was here that she began her career of handling federal civil rights cases which has spanned over the course of her more than twenty years in practice. Rebecca focused on §1983 civil rights actions involving police and jail misconduct, as well as other complex matters such as trucking and medical malpractice cases.
Seeking to further broaden her experience, she also practiced on the defense side for a number of years, successfully defending a multitude of cases, primarily on behalf of a number of different municipalities and police departments, as well as other businesses and insurance carriers across the State of Michigan. After gaining experience on the defense side, Rebecca returned to the work she loved, representing individuals against large corporations and insurance companies in order to help these people obtain rightful compensation for their injuries.
Rebecca has extensive trial experience in both state and federal courts on behalf of plaintiffs and defendants, having been involved in some very high-profile and notable jury trials during the course of her career. She is licensed to practice in the State of Michigan, as well as the United States District Courts of both the Eastern and Western Districts of Michigan, and the United States Court of Appeals for the Sixth Circuit.
Rebecca is an active supporter of the legal community and a member of several associations, including the State Bar of Michigan Negligence Section and the Michigan Association for Justice.
State Bar of Michigan
Michigan Association for Justice
American Bar Association
Preparatory Education: Oakland University (B.A., 1991)
Legal Education: Detroit College of Law (J.D., 1994)
Michigan Bar
S. District Court for the Eastern District of Michigan
S. District Court for the Western District of Michigan
United States Court of Appeals, 6th Circuit
Federal Civil Right Cases, 42 USC§1983, including Police Misconduct and Jail Death Cases
Automobile and Motorcycle Accidents
Trucking Cases
Slip and Fall and Premises Liability Cases
Construction Site Accidents
Dog Bite Attacks